It's rare to find a TV show that has it all – but to me, Brooklyn Nine-Nine is one of those gems. The shock when it got cancelled after the fifth season therefore reached millions of fans, including me, who were then thrown onto a roller-coaster of emotions. While actors and viewers alike consoled each other over social media, the miracle happened: NBC decided to pick up the show in a matter of hours! I'm positive they won't regret this decision, because Season Six is finally upon us and the internet is buzzing with excitement. But what if you missed it all and wonder, what's this nine nine business about? Or you heard of the show but aren't sure if you should start watching it? Well, here are nine reasons to convince you!
First of All: Diversity
There is still a lot of work to be done in order to achieve equal representation on TV, and Brooklyn Nine-Nine is taking great steps in the right direction. The cast as well as the characters are refreshingly diverse. Out of the seven most relevant characters there are two white men – Jake and Charles – who also challenge traditional masculinity through behaviour (like acknowledging mistakes and actually apologising for messing up) or interests (they're embracing sewing, yoga and cooking). With Captain Holt, the tough leader of the precinct is a gay, black man (bonus, he's also in a functional and loving marriage). Terry is have another black man in a leadership position; he's also super-strong and a super-soft dad. With Rosa and Amy, we also have two latina women, one of whom is bisexual, who are allowed to be badass, organised, girly or tough all in one. And if you think diversity isn't important, see how much it meant to Stephanie Beatriz to be cast alongside Melissa Fumero.
It's really, really funny
Being a comedy, of course Brooklyn Nine-Nine features jokes – and I'm relieved that they continue to be hilarious and, best of all, not at the expense of stereotyping, causing hurt or diminishing someone. And, let's be real: We can all use some good laughs.
All the References Our Nerd-Hearts Need
One of my favourite things about Brooklyn Nine-Nine is how embedded the show is in our time. There are references to all your favourite books, movies, shows and artists. Die Hard, Star Wars, Harry Potter, theses guys are just as nerdy about pop culture as we are, which makes my nerdy self feel like this is happening right now in my universe. I also appreciate the brilliant usage of social media, which is not always incorporated in current shows if you think about it.
We get Truly Badass Women
Even though women are still a bit underrepresented with three of the most relevant characters – the third being Gina, the admin worker – I'm immensely glad that they get an actual characterisation (and are not just side kicks to the men), they pursue their own interests and goals (and are not just there as love interests), and even get entire episodes that focus on them. But maybe the best thing of all is that they got each other's backs, empower one another and are simply allowed to be complex, strong characters.
It's Highly Relevant
Even though it is a comedy, Brooklyn Nine-Nine manages the perfect balance between jokes and addressing important issues. Be that the coming out of a bisexual woman and the effect other people's reactions have, or an incident of racial profiling, showing the consequences it has on the victim as well as the difficulty to deal with a situation that so many people of colour face. Serious moments are of course spiced with a bit of humour but always get implemented in a very respectful, honest way. This is why this show has such a huge impact on the viewers.
Finally Realistic Relationships
Friends with benefits, great couples that just don't work out, happy marriages, divorces, beautiful love stories unfolding right before your eyes, – Brooklyn Nine-Nine's got it all, queer or straight. It manages to include relationships in a realistic way without it feeling like a romance show, and does great things for LGBTQ+ representation as well. Something I particularly appreciated is how unrequited love between male and female characters play out. Rather than ending in a horrible way for the woman, B99 shows men respecting the boundaries of women, even staying friends with those who reject them, and also moving on and finding happiness in their own right. These might be quieter storylines, but are nevertheless so important to see on TV; just as happy queer relationships. Basically, be prepared for all the feels.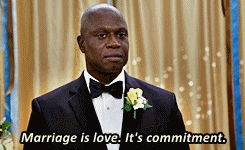 The Writing is GOOD
There aren't many TV series that can grab my attention lately; a lot of them feel repetitive, flat or lazy. Not so with Brooklyn Nine-Nine. You get the whole bandwidth, everything from funny jokes to big emotions and crushing suspense. It's not as overly dramatic as other cop shows, but refreshingly genuine and empowering.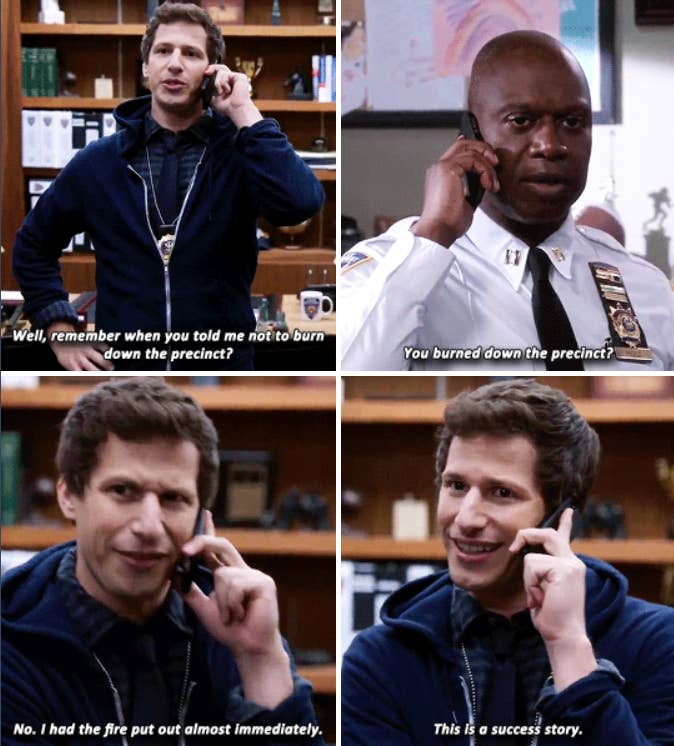 There is Actual Character Development
Connecting to the good writing is the fact that Brooklyn Nine-Nine actually offers character development and doesn't just play out certain personalities over and over again. The characters are allowed to progress, in their careers but also simply as people – Jake especially, who can be seen as some kind of main character. His difficult past is not an excuse for bad or dangerous behaviour, on the contrary. He doesn't hesitate to address his shortcomings and learn from his mistakes, embrace other opinions, even learning to accept help, and yet always stays a fun, cool cop.
They All Respect Each Other
Now, I know behind-the-scenes clips, actor's social media posts and interviews etc. don't always give us a comprehensive view on a show and its making. But from everything I've seen, the cast of Brooklyn Nine-Nine seem to love working together and are able to do so in a passionate, creative and respectful working environment. It's just telling about a show like this, that everyone involved is so passionate about their work and that also shows on screen.

And now, if you're ready for more, enjoy this recap of the past five seasons and get excited for the new episodes! Nine-Nine!